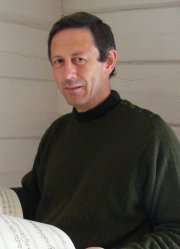 MP3s of live performances
The following are unprocessed, unedited, single-take recordings containing flaws; not necessarily "final thoughts".
J.s.Bach
- Die Kunst der Fuge (The Art of Fugue)
D. Buxtehude
J.Brahms
F. Mendelssohn
From a concert with Roar Engelberg (panpipes) 10 Nov 2010
Composition
"Takksemd" - four songs in "easy-listening" style commissioned for small amateur choir (SAB but mostly unison), woodwind instrument(s) and piano/organ, with texts of Norwegian hymn writer Trygve Bjerkrheim.
MP3 of first performance, in Bjerkreim Church, 10. september 2010 ).
MP3 of another performance, 25. september 2011 ).